Industry


Problems
Over 4 million corporate actions are processed per year, and this is growing by 12% annually on average.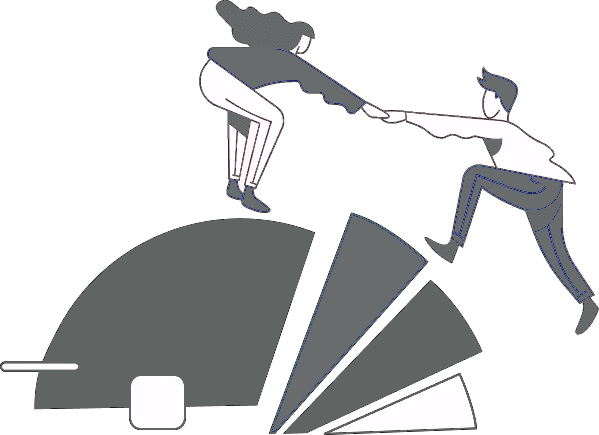 Manual Processing
Most companies process more than 50% of their corporate actions manually, thereby placing a heavy reliance on human intervention on critical daily operations.
Operational Risks
Missing a corporate action or a date, misinterpreting/mismanaging an event, using incorrect or conflicting data, or miscalculating an entitlement are just a few of the operational, reputational, and regulatory risks that come with the manual processing of corporate actions. Many of these issues can be addressed by combining data with modern technology, automating procedures, and implementing best practices.
"ONE PLATFORM, INTEGRATED SOLUTION"
Bring all your data vendors corporate actions to one place.
CAdmin
The use of technology to handle the process of combining numerous corporate actions into a single master record eliminates conflicting data from various data sources, resulting in a single record that can be easily communicated both internally and externally to customers.

NEVER MISS A
CORPORATE ACTION.
CAdmin mitigates the costly risk of missing discrepancies in corporate actions data by collating, standardizing, validating, and finally consolidating them into a single consistent data copy.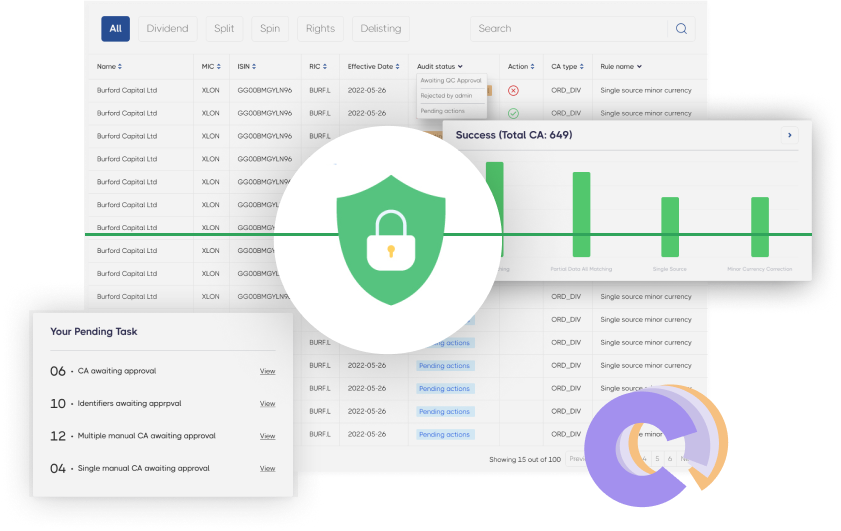 Security Universe
CAdmin enables you to build a universe of securities for which you'd like to track daily corporate actions. This is a one-time task that must be completed when launching CAdmin and adding/removing securities from the universe.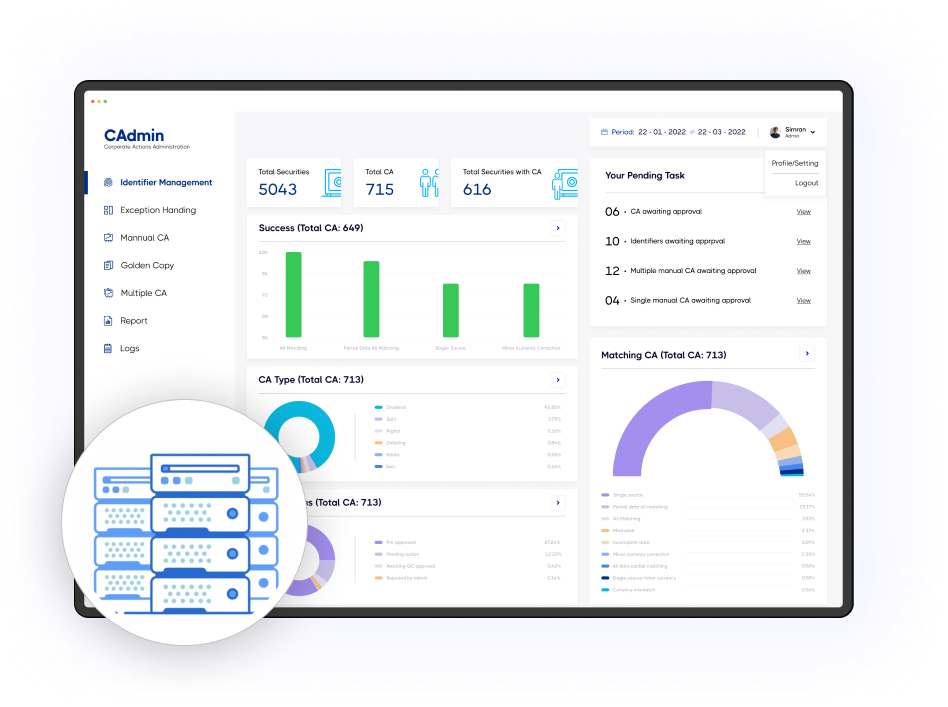 Compliance & Security
All the data that is expected to be handled in CAdmin on a daily basis will be provided by the client and will only be stored on the client's servers. Clients would have access to their data only.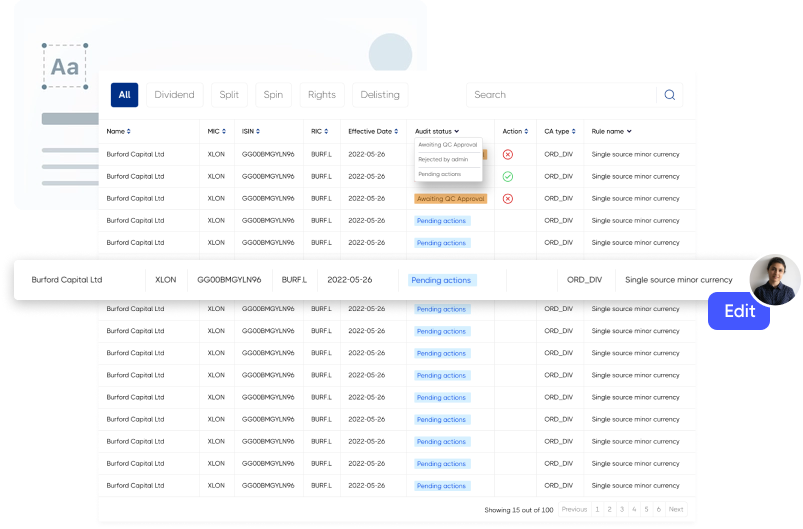 Manual CA insertion
If your data providers fail to report a company's corporate action on a given day, CAdmin allows you to manually enter that corporate action.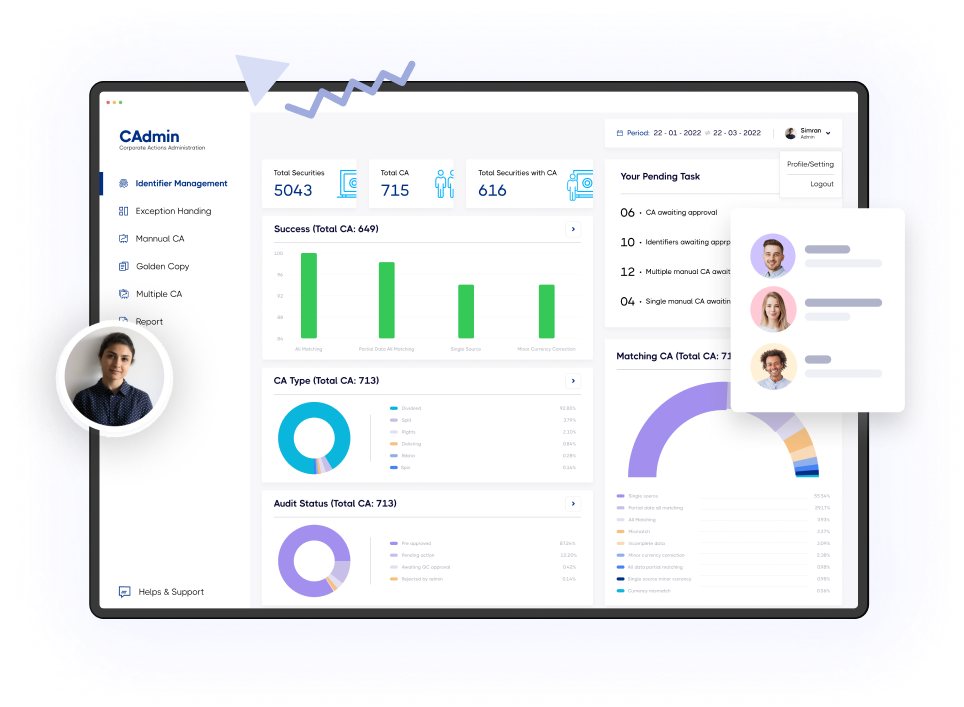 User-specific Dashboard
CAdmin allows you to build a dashboard based on your needs and resources, and plan accordingly to take your required critical decisions.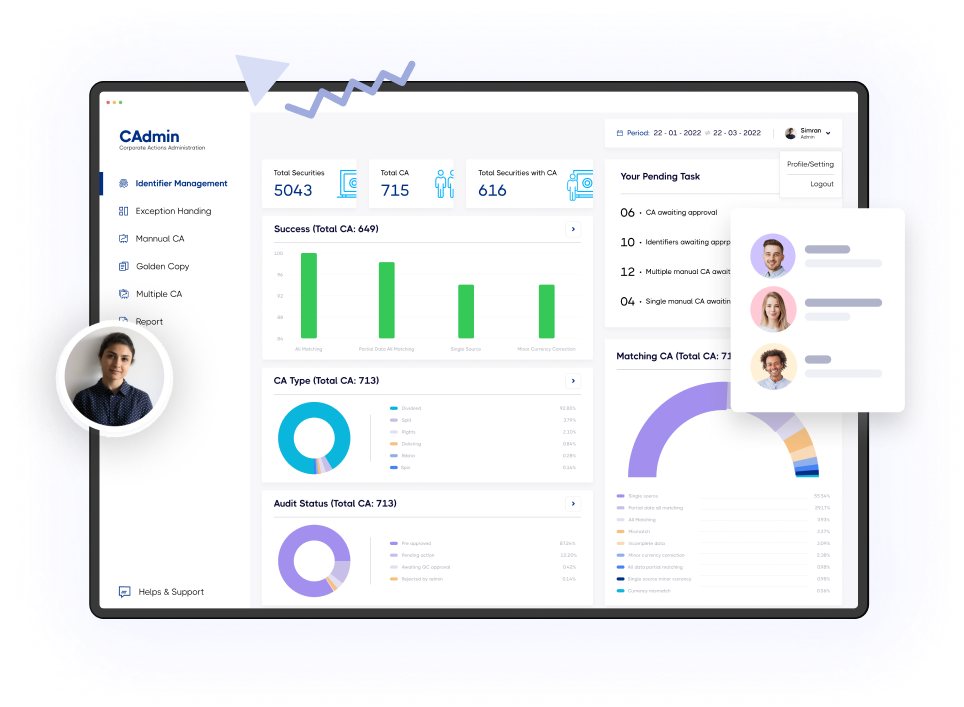 Analytics
CAdmin provides a graphical summary dashboard that provides performance of key indicators at-a-glance, helpful in planning, decision making, and managing activities.

SCALABLE ARCHITECTURE
Our tool supports high volumes of corporate actions and complex multi-x capabilities.

COST EFFECTIVE
We reduce high fixed costs associated with corporate action validation to a variable cost as per each client's requirements.

SIMPLIFIED OPERATIONS
We target to eliminate inefficient and error-prone manual processing of corporate actions and hence transfer the burden of corporate actions from clients to a trusted professional service.

SINGLE SOURCE
We provide streamlined collection, validation, and dissemination of corporate actions governance in a single place. Hence, oftentimes multiple data sources and feeds can be converged in a single place.

REDUCED RISK
We aim to limit downstream errors or delays and the risks or consequences associated with flawed data.

COMPREHENSIVE COVERAGE
We understand worldwide marketplaces and are capable of addressing corporate actions from all regions.
LET US ASSIST YOU IN MANAGING YOUR CORPORATE ACTIONS
FREQUENTLY ASKED QUESTIONS?
Learn how CAdmin adds credibility to your corporate actions data on a daily basis.